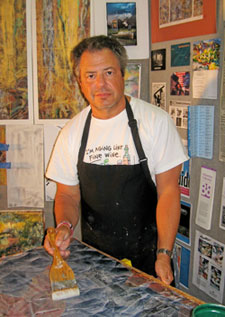 "The first and most important thing is to remain free, free in each line you undertake, in your ideas and in your political action, in your moral conduct. The artist especially must remain free from all outer restraints." - Hans Hartung
Tom Anastasio
Mystical Fusion
Anastasio grew up in the north east industrial city of Bridgeport, Connecticut of Italian American heritage. Some of his fondest recollections are rooted in the memory of the family farm located in nearby Fairfield, Connecticut. Romantic stories about the Amalfi Coastal regions were frequently told by his grandmother. His early education was that of a private and parochial one where he developed a love for ancient Hebrew History and Poetry. At age 16 he won a national scholarship from the General Motors Fisher Body Design Competition. Against family wishes he attended Silvermine College of Fine Arts where he met the likes of Jimmy Ernst, Buckminister Fuller and Norman Rockwell. In 1969, he returned to the homeland (Italy) of his great grandparents. Artistic influences from Roman Antiquity to the Renaissance would impact on this style of painting. He has returned there numerous times.
A Palm Coast, Florida and Huntington, Connecticut commuter, Anastasio maintains two studios. He has created a large body of work in several innovative techniques. His works are in hundreds of private collections in Europe, South America, Canada, and the United States. He fuses together mysticism and psyche in a lyrical and commanding synoptic image of artistic expression. This conjoining is the subject of Herb Davidson's (Curator of the Museum of Arts and Sciences, Fairfield, Connecticut) critique of his artwork. Davidson says: "Anastasio's paintings express a theme of promised dreams and man's aspiring hope. The artist uses eastern water media and collage because of their translucent and texturing possibilities. For this artist, the process of build-up and tearing away painted handmade paper to create symbolic forms are analogous to the exploration of the human psyche and spirit. The color schemes, especially the use of gold are an emotional response to that reminiscent of the Italian Quattrocento."
For over fifty years, Anastasio has successfully achieved the art of formalization and originality. In developing a completely unique style "Mystical Fusion" he has received notable acclaim and has become internationally celebrated. His psyche and mystical Fusion is the uniformity of concomitant appreciation with ancient artistic traditions.