Catalyst of the Incandescent
Amsterdam Whitney, New York, NY
December 2nd, 2011 - January 18th, 2012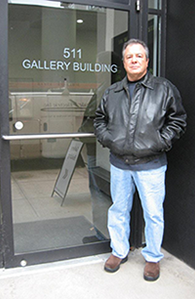 511 West 25th Street, Chelsea
New York, NY 10001
Phone: 212-255-9050
Fax: 212-255-9020
www.amsterdamwhitneygallery.com
Wassily Kandinsky stated that "the more abstract is form, the more clear and direct its appeal." Accordingly, the abstract works by Contemporary artist Tom Anastasio have an utterly captivating force. Well-known for his dazzling canvases, Mr. Anastasio has skillfully applied his keen eye for shape and color combinations with the intent is to allow the viewer to interpret his art independent of outside influences, and to focus entirely on the elements of the painting.
A Palm Coast, Florida and Huntington, Connecticut commuter, Mr. Anastasio has developed a commanding artistic style which he calls "Mystical Fusion" resulting in synoptic images that express a theme of promised dreams and man's aspiring hope. This innovative modality results in the lyrical synthesis of mysticism and psyche as he utilizes eastern water media and collage due to their translucent and textural possibilities. The process of build-up and tearing away painted handmade paper to create symbolic forms is analogous to the exploration of the human psyche and spirit. The color schemes, especially the use of gold are an emotional response to the inspiration of the Italian Quattrocento and his canvases are dominated by rich royal hues juxtaposed with luminous highlights
Tom Anastasio's paintings have a penetrating incandescence and his art is highly structural where the shapes appear to be constructed onto the canvas to fit perfectly amidst other forms. Like pieces of a non-representational puzzle, the viewer may arrange these components in the imagination to create numerous meanings for the same work. In his "Falling Water Series - There is a Season," one may easily envision a fantastical aquatic world. In reverse, a viewer may relate to Mr. Anastasio's paintings in a purely abstract level, appreciating the harmonious composition and elegant execution above all else. No interpretation is right or wrong because the meaning is within the individual experience. Thus, the fundamental strength of his oeuvre is the ability for the viewer to connect intimately, both intellectually and emotionally, with her work. Therefore the creative process does not end when the paint has dried, but it continues on with the participation of the spectator.
Mr. Anastasio has been exhibited nationally and internationally, and his paintings have been treasured in both private and corporate collections. Amsterdam Whitney Gallery is proud to shine the spotlight on this rising contemporary star.